World exclusive: Inside Kabul's first music school
main
Cathy Graham, head of music at the British Council, was telling me the other day about her trip to Afghanistan to foster grass-roots efforts to restore music education, banned under the Taliban.
When she described the first music school in Kabul, I had an irresistible urge to share her story. Cathy has written the text below and taken the pictures. Since her visit, the British Council has been the target for a massive Taliban attack.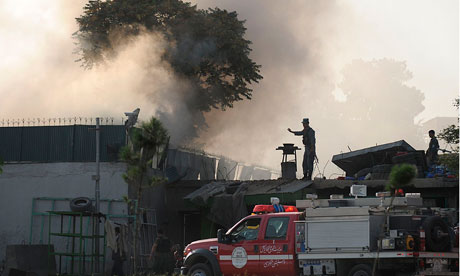 The first music school in Kabul
(c) Cathy Graham
It felt like sitting in a particularly accessible Headmaster's office in any lively school at the beginning of term.  The door kept opening and a head would poke round with an essential piece of information or a question.  Sometimes it was a parent, sometimes a teacher, sometimes a child.  The atmosphere was buzzing and you never knew quite what to expect next.  In many ways it was hard to believe I was sitting in Kabul in the first music school to open post-Taliban; in other ways it was impossible to forget.
I had arrived two days earlier on a flight from Dubai at exactly the time a pastor in Florida was burning the Koran.  In retaliation, the worst attack against a UN compound in Afghanistan had just occurred in Mazar-i-Sharif, a NATO military base had been attacked on the outskirts of Kabul, and I was driven to the British Council compound where I was grounded for several days in what was then a safe haven, waiting for the unrest to settle in the city.
Eventually it was possible for me to travel through Kabul, making contacts with arts organisations, learning about the reality of their every day existence and looking for opportunities to create bridges with the UK.  The dry, dusty city, bathed in weak sunshine and surrounded by high mountains had a beauty and a charisma that exerted a strong pull. I had heard that Afghanistan gets under the skin of a traveller, but I had never expected it to happen so quickly.  But the combination of the landscape and the dignity and hospitality of the people I met was a potent one.
And nothing affected me more strongly than experiencing the first steps of a nation reclaiming its musical heritage and developing its musical future through investing in the talent of young children at the Afghan National Institute of Music.  Founded by Dr Ahmad Sarmast and opened in 2010 with the assistance of Afghanistan's Ministry of Education, it is housed in the old School of Fine Arts.  The number of students currently stands at 150, though the ambition is to take in 300 between 10 and 20 years of age, half of whom will be girls.
Dr Sarmast received his education at the Moscow conservatoire, continuing his studies in Australia where he was exiled for many years and where he has a Phd in Afghan music from the University of Monash.  He returned to Afghanistan in 2006 to see the impact of the years of war and discrimination against music, and to see how he could start to repair the damage done during a period when music was banned.  With his formidable vision and energy he is building a future based on music as a healing power – half of ANIM's students are war orphans from the streets of Afghanistan – and its ability to provide revenue for both the country and for musicians.
Generous funding from many bodies, notably the World Bank, has provided classrooms, store-rooms of instruments, computers with Sibelius software and hand-crafted furniture made from local materials.  The one area where the school still needs help is with teaching staff – not only for the students, but also to train the teachers.  The curriculum is based around Afghan and Western classical music – though extracurricular activities already include a rock band and a jazz band – and every lesson is taken by two teachers, one a qualified teacher from outside the country, and one Afghan.  Dr Sarmast hopes that after the first five year period he will have trained enough teachers to operate with an all-Afghan teaching corps.
I will never forget witnessing the first rehearsal of ANIM's newly-formed Wind Band, featuring probably the first female saxophone player in Afghanistan.  I had to leave at the point when two young horn players, hidden behind the bulk of their instruments, were trying to hone in on the same note. And on the way out, I managed to capture on camera a young girl's look of happy anticipation on her first day at the school.
Sadly, following the devastating attack on the British Council offices in Kabul six weeks ago, the safe haven where I found refuge no longer exists.  However, it makes me very happy indeed that in spite of that the British Council is in a position to explore ways in which it can support ANIM on its journey to maturity.  In contributing to the development of ANIM's teaching staff, we have the chance to leave a long-lasting mark of friendship in the face of near-insurmountable challenges.