Bankrupt nation opens new concert hall
main
Iceland's creditors will be warmed to learn that the nation opened its grand new concert hall on Wednesday. Planning in an age of euphoria, it took four years to build, by which time the country was in hock to the rest of the world and refusing, by referendum, to cough up.
Vladimir Ashkenazy conducted the first concert. The acoustics are by Artec and the place looks pretty smart.
The official inauguration is not til August. Who pays? Who knows?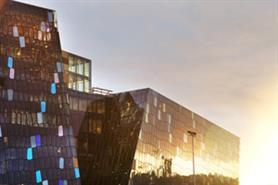 Harpa Reykjavik Conference Centre launches in Iceland
The Harpa Reykjavik Concert Hall and Conference Centre is launching a series of celebratory events today (4 May) in the run up to its inauguration on 20 August.
Harpa, Reykjavik's new 28,000 sq m concert hall and conference centre, features four separate halls and is located on the harbour between the city centre and the North Atlantic Ocean.