Looted Klimt – the Mahler connections
main
The Klimt painting restored this week to its rightful owners after 70 years of Nazi dispossession has untold connections to the Gustav Mahler story.
Victor Zuckerkandl, the original owner, was a property developer in Vienna who built, among other amenities, the strikingly modernist sanatorium at Purkersdorf.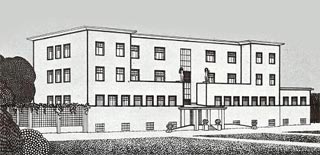 His brother, the anatomist Emil Zuckerkandl, was married to the media heiress and art critic Berta; both were close personal friends of Mahler's. It may safely be assumed that Berta introduced Victor to Josef Hoffman, who designed the sanatorium as well as several gifts that Mahler commissioned for his wife, Alma. It would have been through Berta, too, that Viktor in 1914 purchased from Gustav Klimt his latest painting, Litzlberg am Attersee.
When Viktor died in 1927, the painting passed to his sister, Amalie, who lived nearby in Purkersdorf. Amalie had married into the Redlich family, who were lifelong friends of Mahler's; he last stayed with them during the summer of Das Lied von der Erde. Amalie and her daughter Mathilde were deported and murdered by the Nazis in 1941 and their property sequestered. Amalie was listed in Nazi records as a sanatorium owner. The painting wound up in the hands of a private collector, who gave it to the Salzburg museum.
Corridor at Purkersdorf, designed by Hoffmann.
The Klimt scene would have been familiar to Mahler; it depicted the lake beside which he composed his third symphony. The Salzburg Museum has now agreed to restore the painting to Amalie's grandson, in exchange for a $1 million gift for an Amalie Redlich annexe at the museum.
For more on the Klimts, the Zukerkandls and the Redlichs, see Why Mahler?