The ten biggest classical music events in China
main
Rudolph Tang, who writes for KLASSIKOM Music Info Service, has sent us a list of what his site regards as the ten most important events and developments in China over the past year. The English version, he notes, is slightly different from the Chinese.
Among other unreported trends is the phenomenal rise of a Taiwan conductor on the Chinese mainland and a BBC contest winner's connection with his homeland. Here's Rudolph's report:
1 Mahler, stewed not stirred
Mahler here and Mahler there, Mahler was everywhere. From small
township to major metropolises, Mahler was utterly welcomed and duly
remembered by two complete symphony cycles in Beijing plus one Mahler
Festival which featured his lieder and piano quartet. In Shanghai
there was a slightly less ambitious incomplete cycle that was equally
welcomed. Even the EOS Orchestra of Central Conservatory gave three
Mahler symphonies this year conducted by Julliard alumni Yongyan Hu.
A comprehensive if not complete survey of major Maherian concerts in
China in Mahler years is available upon request from KLASSIKOM
exclusively, in English!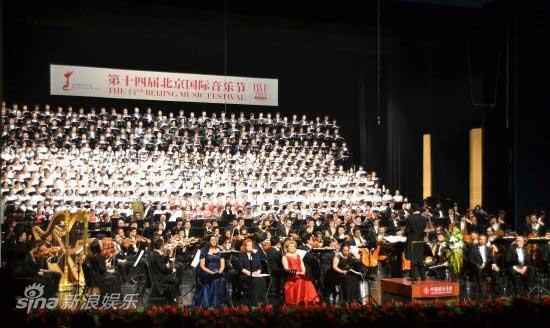 2 Music on the giant screen
Cineplex of the Met has become an industrial standard for the opera
business but it was just new to China. The Shanghai Grand Theatre,
after lost its battle of musicals and surrendered to the Cultural
Square, a newly erected venue specifically built for the musicals, was
looking for alternative contents and HD opera got their nerve. The
first of four cinema casts was introduced to Chinese audience on Aug
27 with Julie Taymor's Die Zauberflöte featuring Chinese soprano Ying
Huang both on the screen and on the stage for a talk. It was followed
by La boheme featuring the rising bass-baritone Shen Yang. Both casts
were sensational enough to foretell a good future.
A concert of Berliner Philharmoniker conducted by Sir Simon Rattle was
simulcast in an outdoor venue in November in Shanghai, the first of
its kind in the region to an thousand attentive and curious audience.
3 A boom in Chinese opera
According to a fellow music critic Zhiyin Chen, more than 20 operas
were either written by Chinese composers or premiered in 2011 alone,
setting a record for the already bombastic operatic scene which won
attention from New York Times and Financial Times. The First China
Opera Festival held in Fuzhou was the ultimate showcase of China's
local opera menacing power. The only question remains where those
outputs are one-time phenomenon. Possibilities for future productions
are quite dim.


4 Matsumoto festival live from China
Seiji Ozawa's absence simply couldn't stop the pace of his festival
for a two-week residency in Beijing and Shanghai with Bartok's Blue
Beard and other programmes, performed by his award-winning Saito Kinen
Orchestra and the Seiji Ozawa Workshop featuring Matthias Goerne as
the bloody count. Matsumoto was the second major oversee festival to
have a residency in China after Claudio Abbado's Lucerne Festival in
2007 in Beijing. That could pose potential challenge to the existing
festivals, one of them being the almighty Beijing Music Festival
founded by Long Yu in 1998.
5 Shake, Rattle'n Roll
Sir Simon visited China with Berliner Philharmoniker with Bruckner and
Mahler 9th. The British conductor was kind and the musicians were
friendly, unlike the arrogant Daniel Barenboim who rudely refused any
requests from fans waiting for him at the train station or lining up
at the backstage door.
6 Memorial concert for the centennial of the 1911 revolution
The 1911 revolution in China ended the reign of the last emperor.
During the Shanghai Spring Festival which promotes contemporary music,
bass-baritone Shen Yang paired with former president of Shanghai Music
Conservatory Liqin Yang in an all Chinese art song liederabend. The
recital revived some of the lost and forgotten music by Chinese
composers a hundred years ago and restored audience's faith in Chinese
art songs. The music Shen chose were melancholic enough to remind one
of the old merry days before the liberation. The recital was
subsequently voted as Creative Programme of the Year by five leading
music critics in Classical Elites Shanghai 2010-2011.
7 Shao-chia Lu's first season at NSO
Lu's first season with NSO Taiwan was both phenomenal and comprehensible. His Mahler 8th and Resurrection
established his iconic status as the leading living Chinese/Taiwanese
conductor dwarfed by no one. The good days for NSO are yet to come.

8 Shande Ding's centennial
Former president of Shanghai Music Conservatory who gave birth to the
all-time classic violin concerto Butterfly, Ding's centennial was
greeted with symposium and one major concert by Shanghai Symphony
Orchestra conducted by Ding's grandson Long YU. Yes it is always a
family business in China.
9 Guangzhou Opera House falling apart
The million dollar brand-new Guangzhou
Opera House is falling apart due to construction defects. It was a
major scandal on social networks in China.
http://www.telegraph.co.uk/news/worldnews/asia/china/8620759/Guangzhou-Opera-House-falling-apart.html
10 Outsourced by the US
Shanghai Symphony Orchestra signed a virtually empty memorandum with
New York Philharmonic. In the seemingly baton exchange, Long Yu, music
director of SSO, was invited for a concert engagement by New York Phil
in early 2012 during the Chinese New Year. The NCPA in Beijing signed
a deal with Philadelphia Orchestra for a pilot partnership starting in
2012. Similarly one theatre in Tianjian signed an agreement with
Lincoln Centre for the exchange of programmes. A new wave of cultural
colonisation probably, but why were China's cultural establishments so
hungry for MADE in USA to make them look (if not sound) better?