How Mahler wanted his 'r's enunciated
main
Further to the Brussels kerfuffle over French pronunciation, creative consultant Roger Neill has sent me an article he prepared for Vladimir Jurowski on the correct way to deliver an 'r in German opera and Lieder. I'm delighted to publish it here:
Mahler and the singing of the letter r in German opera and song
Mahler the opera conductor laid particular emphasis on the importance of correctly singing the letter r in German-language opera and song. The question is: to roll the r at the front or the back of the throat? Which did he prefer?
His disciple, Natalie Bauer-Lechner (who wrote down faithfully just about everything she heard him say) reports Mahler as follows: "In singing, everything depends on diction. Interpretation, even from the musical point of view, ought always to be built on the words… The most important thing in a singer is his r; if he can get that right, strange as it may seem, he can't be entirely bad."[1]
But Mahler did not elaborate on what, for him, was "right", what "wrong". How exactly did he wish the r to be sung? At the back of the throat, the uvular r, as in "correct" spoken German (and French)? Or rolled on the tip of the tongue, as in English and Italian?
It is the great soprano Lilli Lehmann (1848-1929) who gives us the answer. While Lehmann was never a formal member of his tightly-knit Hofoper ensemble in Vienna, he invited her to visit (and perform) for a period each year from 1898 until 1907 to give what Mahler described as her "annual singing lesson" to the company. Lehmann included in her repertoire over 600 songs and 170 operatic roles. She was initially the pupil of her mother, Marie Loewe in Prague, and was coached by Wagner for his first Ring cycle at Bayreuth in 1876.
Her 1902 book, How to Sing, whilst it covers many areas critical to good singing, sheds no light on the topic. However, in the published lectures[2] of French composer, pianist, singer and teacher, Reynaldo Hahn, he describes a visit he made to Lilli Lehmann's home in Berlin to rehearse Don Giovanni:
"…she welcomed me with a coarse voice, resting solidly on the low register and speaking with uvular r's of the Prussian variety. I sat down at the piano, and she began to sing. With the first bar she was transformed: 'Non sperar se non m'uccidi / Qu'io ti lascia fuggir mai.'
"It was a stupendous metamorphosis. Suddenly, her voice became feminine, high, with vibrating resonance. As for the r's, they were rolled, very Italian and bright, surely just as Mozart heard them pronounced and as he himself pronounced them since he was born in Salzburg."
Of course the question remains, how did she pronounce the r's in German-language works? Her recordings, made in 1906 and 1907, when she was nearly sixty years old, tell a consistent story: Lehmann consistently uses the tip-of-tongue rolled r in all the recordings I have studied closely – in the two Constanze arias she recorded from Entführung, in Beethoven's early setting of Goethe's "Freudvoll und leidvoll", in Schubert's "Erlkönig" and "Du bist die Ruh", in "Intermezzo" and "Mondnacht" from Schumann's Opus 39 Liederkreis, and in the extracts she recorded from Die Walküre ("Du bist der Lenz") and the Liebestod from Tristan und Isolde ("Mild und leise").
Within his Hofoper company, Mahler's favourite performer was Marie Gutheil-Schoder (1874-1935), Grange describing her as his "most faithful, talented and conscientious collarorator".[3] In her 1902 recording of Frau Fluth's "Verführer!" from Nicolai's Die Lustigen Weiber von Windsor, she consistently uses the rolled r, really letting rip on "Mein Ritter, mein Ritter".
Case closed? Perhaps not. Hahn reports that the great Schröder-Devrient (who died in 1860, before Hahn was born), creator of three major Wagner roles, was said to have "gutteralised abominably".[4]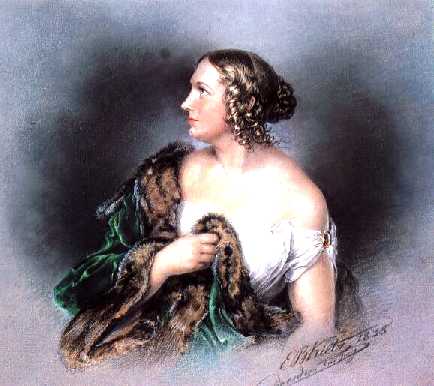 ---