A moral challenge at the Met (updated)
main
Forget about James Levine, whose sorrowful drip-drip withdrawal will soon barely make the news.
The big question is how the Met conducts its business. When Fabio Luisi was parachuted in to replace Levine, he was forced to cancel opera engagements in Rome, Genoa and Covent Garden. When those houses protested – if only at the short notice – Peter Gelb told them, in effect, to sod off. His need was greater than theirs. No more Mr Nice Guy.
Now, in an interview with the Guardian's Charlotte Higgins, Gelb defends his contentious policy of tying cinemas around the world to an exclusive contract for Met operas, preventing them from showing productions by any national house. Here's what he says:
There is competition everywhere – including in the world of opera. We compete for singers, we compete for directors, why not compete for cinemas, too?
Oh, really? Competing for conductors and artists is a matter of money and persuasion and casting and other benefits. Tying cinemas to a lockout contract is monopolistic. It is unfair and uncompetitive. It also alienates audiences from the opera houses in their own country.
Gelb is widely (if privately) known as The Ugly American. If he looks in the mirror, he might recognise himself as the counter-type hero of Eugene Burdick and William Lederer's 1958 political novel of that title, an idealist overwhelmed by the crude US imperialism of his time. It will not help the Met in the long term to be seen around the world as an opportunitic monopolist [amended, after lit. crit. from La Cieca, see below].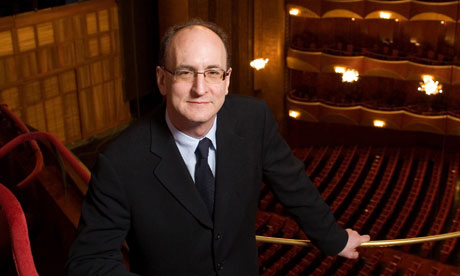 Photograph: Dario Acosta/Metropolitan Opera
UPDATE here.