Ralph MacDonald started out drumming for Harry Belafonte. In all, he made 400 albums.
His most celebrated composition was Roberta Flack's Where is the love?
MacDonald was 67 when he died yesterday in Stamford, Conn.
Andrea Bocelli, eat your heart out.  A report in English from Russian Television, with reporter participation.
One of the great disappointments of the Obama presidency has been its failure to foster the creative potential of America's arts. Another, probably unforgettable, was the president's xenophobic assaults on British Petroleum when a BP rig sprung a bad leak in the Gulf of Mexico. Made us all so  proud to be British (even though BP is not).
This morning at the British Museum, BP reminded us of its continuous investment in UK arts institutions for 24 years and pledged to continue that involvement up to 2017.
Its £10 million ($16m) input will enable the Royal Opera House to put up 21 big screens around the country for free live relays of opera and ballet, Tate Britain to rehang its entire collection, the British Museum to stage a Vikings extravaganza and the National Portrait Gallery to continue its BP Portrait Awards.  'We deliver world class programmes to a global audience,' said BP md, Iain Conn.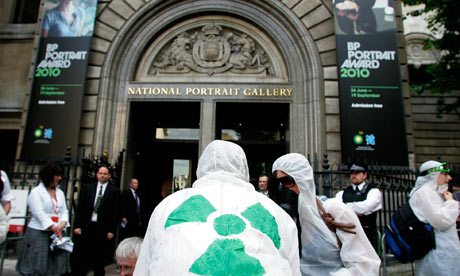 Nicholas Serota of the Tate admitted the Gallery had listened to green protests at BP's pollution, but decided to take the money regardless. BP said it was proud to supply the world's energy needs. Neil Macgregor of the BM called BP an 'exemplary supporter of the arts'. Nobody mentioned Barack Obama. What's he ever done for the arts?
A dozen francophone friends came round last night to hear my programme on Barbara and the effect was unexpected.
We sat, whiskey tumblers and champagne glasses in hand, and gave the speakers our full attention for 45 minutes. It felt like being transported back to the 1930s of our parents and grandparents when radio was the sole domestic source of news and entertainment.
Our younger friends, who had never truly listened to radio before, were unaware of its hypnotic power to evoke a world in sound, without pictures. I quoted them Marshall McLuhan to the effect that what you heard on radio, a 'hot' medium, endured longer than what you saw on TV, a cold one.
Here's another listener's account.
It's hardly worth dying any more.
The Guardian, which has the best pair of eulogy pages in Britain, is cutting back from two pages to one, Press Gazette reports.
That's bad news for the late lamented, both the famous and those more locally appreciated who receive sweet tributes from their community.
The Guardian is suffering heavy losses and has warned it can barely survive three years at the present rate.
Perish the thought.
Wendy White, who fell eight feet from an insecure Met platform in Gounod's Faust has been sent home after a night in St Luke's Roosevelt Hospital.  She suffered extensive bruising but no broken bones.
The Met, however, has some safety questions to answer. These accidents are far too frequent.
The following statement was read last night at the National Theatre in Prague by its director Ondrej Cerny, before the curtain went up on Dvorak's Rusalka:

Václav Havel has died. The greatest spiritual authority of our young democracy has left us for ever. An extraordinary human, a true citizen, a great politician, a splendid playwright. Undoubtedly the greatest figure this country has had since the time of Tomáš Garrigue Masaryk. One it has given to the world. His bust, unveiled  at the National Theatre on this  anniversary of the Velvet Revolution, on 17 November, will for ever remind us of his unpretentious  yet magnificent legacy. And serve as a constant source of inspiration in our lives. Now it is up to us.
The flamboyant violin dealer Dietmar Machold will not face the mercies of Swiss justice.
Machold, who declared bankruptcy last year, was arrested in Switzerland ten months ago on charges of fraud and embezzlement. Five Stradivarius and four Guarnerius are among 17 instruments, worth $50 million, that the authorities in both countries would like to trace.
Machold lived the high life in a Schloss. His expectations will be rather lower now. He was transferred at the weekend to Vienna, where he will face trial.