Bayreuth reveals its list of political freebies
main
The state of Bavaria has just published in a press release the names of prominent persons who have been invited, mostly on free tickets, o appear at this year's opening night of the Bayreuth Festival on July 25.
Top ticket, as ever, is the German Chancellor Angela Merkel.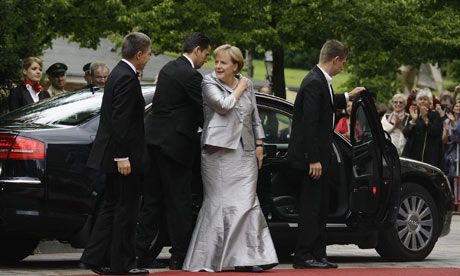 photo: guardian.co.uk
Next up are the new head of the International Monetary Fund, Christine Lagarde (never snapped there before) and the European Central Bank President Jean-Claude Trichet. Guess they can talk Rhine gold in the interval (actually, the show is Tannhäuser, so it may not be appropriate).
The European Commissioner for Health and Consumer Policy John Dalli will be there on a freebie – don't ask me why – along with the ambassadors of the United States of America, Great Britain, France, Japan and South Korea.
Seven other German Cabinet ministers, together with Cabinet spokesman. The entire Cabinet of Bavaria and the heads of five political parties, along with various secretaries of state. Plus the Roman Catholic and Lutheran Archbishops of  Bamberg. No nudity on the first night, then. Jist the odd hint of incest.
Here's the full list.